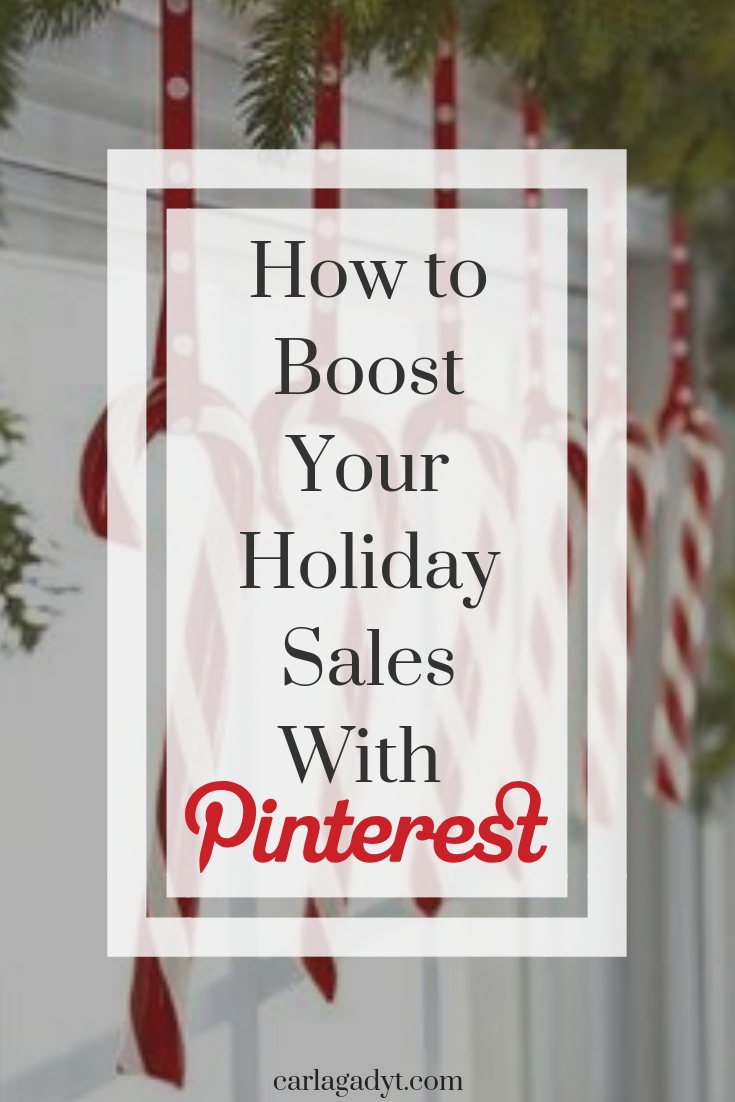 How to Boost Your Christmas Holiday Sales With Pinterest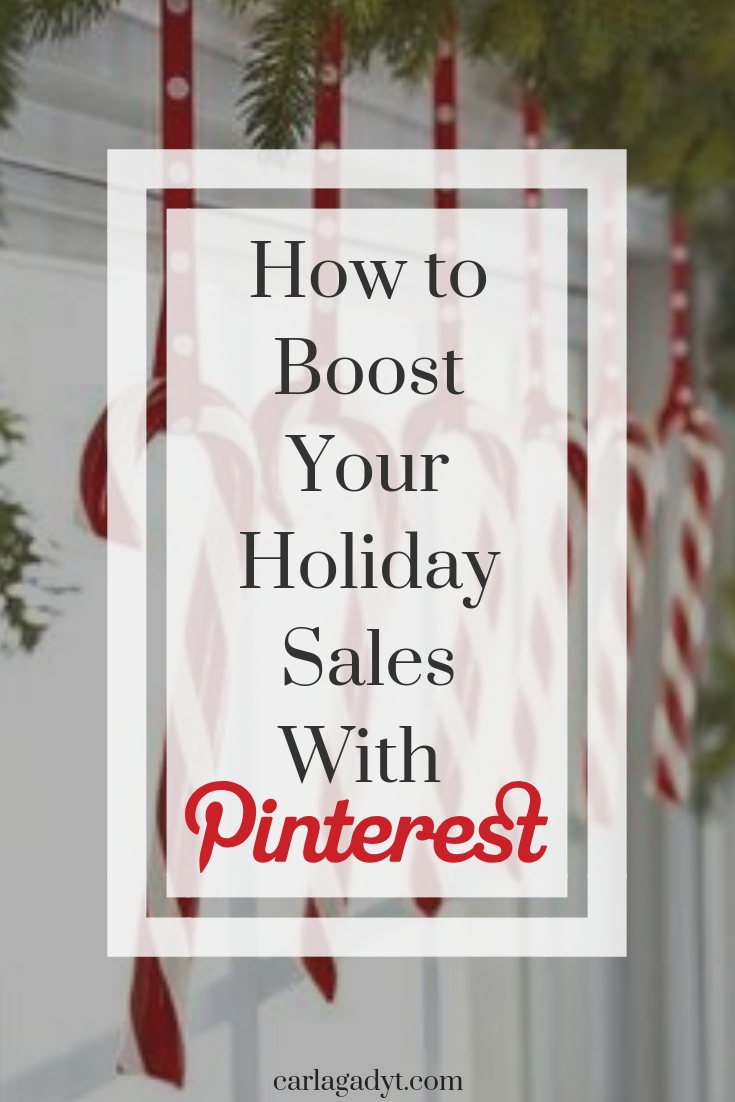 ---
´Tis is the season to increase your sales with Pinterest, Fa-la-la-la-la, la-la-la-la!
Seriously, it really is!
Pinners start looking for Christmas related pins… now as early as September or October.
According to Pinterest Insights, "Pinners tend to start searching twice as early as people on other platforms, because Pinterest helps them decide where to shop and what to buy.3 With winter right around the corner, it makes sense to start posting and promoting your holiday Pins today."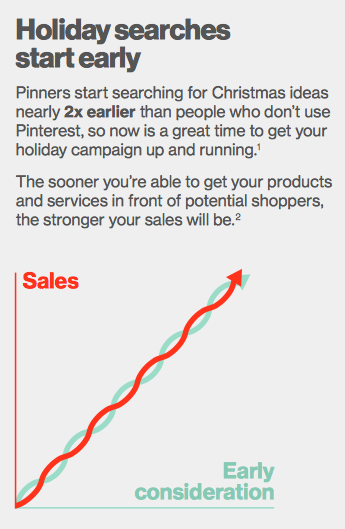 Source: business.pinterest.com
So, to help you make the most of your sales, I've wrapped up a few key things you can and should do:
Create a specific Christmas sales board
Consider creating a Christmas board just to show case your products that your audience can buy this season.
You can add different sections to this board such as:
Gifts For Her

Gifts for Him

On sale

Almost Gone

Christmas Essentials

etc
Choose a nice name for your board that contains the main keywords for your niche.
For example the name of your shop and Christmas Sale: "Bloom Baby Christmas Sale", or just adding your keywords "Baby Clothing Christmas Gifts".
Make sure that you add the right keywords to the description of your board (the keywords that your audience uses to search for your products), and also on each pin.
Also make sure that all your pins have the correct links to the right landing pages on your website. The worst thing is someone clicking through eager to buy your product and then going to a broken link.
Add a nice Christmas Cover
You can create a customized image to be the Christmas cover of your board. Here's an example: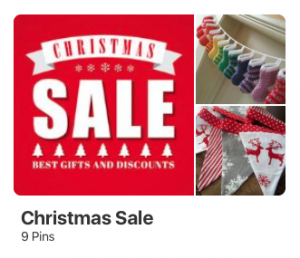 Make sure you keep this board at the top of your profile and also on the Slider on your Featured Boards, so it's visible as soon as someone visits your profile.
After the holiday season, you can move this board to the bottom of your profile, or make it a secret board until Christmas next year.
Or, even turn it into a "After Christmas Sale".

Take photos and/or videos of your products being used on a Christmas setting
This one really depends on the time you have available and how much you want to spend on your marketing campaign, but it might be one of the best decisions you make, especially for your main products you want to push sales.
All year round, images that show products being used have a higher chance of click through and convert into sales than images that only show products. This is also called lifestyle images.
So it might be a good idea to shoot some photos and/or videos of your products being used in a Christmas setting.
For example, showing people unwrapping a present with a Christmas tree on the background and taking out of the box one of your jewelry pieces.
Or kids with Christmas sweaters playing a board game sitting on one of the sofas you sell.
Or someone cooking a Christmas meal using one of your kitchen appliances.
Or show a tutorial of how to decorate a Christmas tree with the Christmas decorations you sell.
Got the idea?
This is an amazing way of showing your products creatively and making a big difference.
Here's a great example of how different it is to just show a product and show the product with a Christmas theme: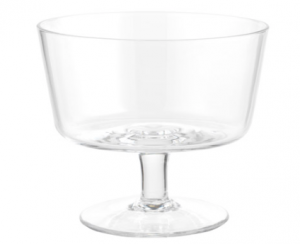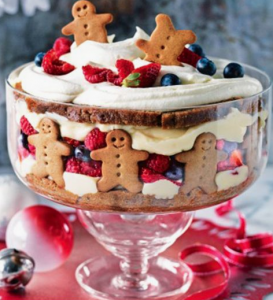 Whatever images and videos you create, always make sure they are consistent with the overall look of your website and branding.
Create images of your products with a Christmas mention
By using an easy to use tool like Canva.com you can create images of your products with a Christmas wording or mention.
Here is below an example. You pick up the photo of your product and add a Sale Christmas discount, and can even add a Christmas present picture for pinners to immediately connect your product with offering them as a Christmas gift: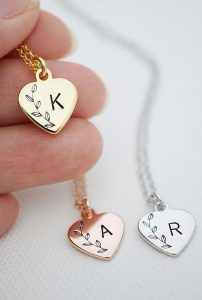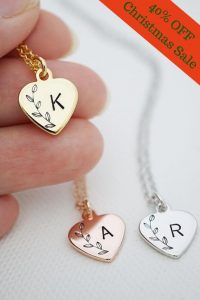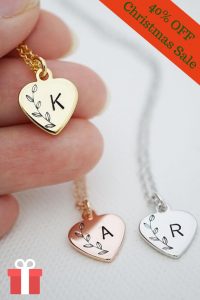 You can also add specific wording such as "The Perfect Christmas Gift!", or "Christmas Gift For Her".
You can add headers, subheaders, annotations or take a creative approach to how your type interacts with the image. No matter what you decide, remember to keep text clear, concise and focused.
Doing this will make your pins stand out on the Pinterest feed when people are searching for Christmas related stuff.
And make sure your pins are vertical!
Help Your Audience With What They Really Want
One of the best ways to have a successful Pinterest profile is to go beyond showing your products on your account.
You have to know the interests of your audience that are related to your products and also the type of client that buy your products.
There are 4 types of Holiday Shoppers on Pinterest:
The Time-Saver: This type wants to find great things quickly. I'm talking pre-packaged stuff, easy gifts, and anything that is convenient and ready.
The Gifter: This person buys presents for everyoooone. They love to give and are ready to go the extra mile to find the perfect gifts. Personalized stuff is their bread and butter.
The Guest: The guest loves parties, but they don't like to plan or organize them. However, they are ready to splurge in order to bring not so easy to find items to a party, such as gourmet food, champagne cocktails, fun holidays games, and anything that brings excitement to a get together.
The Planner: This is the party perfectionist. They take into account every single detail, from home decorations to the perfect menu and presents. This is the type of people that create boards on Pinterest for Christmas planning.
So, it's important to know which type(s) is/are your own customers, so you deliver them more than just your products.
For the time-saver, consider offering pre-packaged Christmas gifts and free delivery. Also related resources such as easy to made recipes, or info on how to quickly decorate a Christmas tree.
For the Gifter, consider having a board with gifts for everyone: products for mom, dad, children, grandad, grandma, spouse, cat, dog… This way you make their life easier because they are willing to spend on gifts for their whole world.
For the Guest, show how your products can be an amazing gift to bring to a party. How creative and exciting it would make them look.
crossorigin="anonymous">
For the Planner, not ony you'll have to showcase your products, but you'll have to bring them party planning ideas and resources. They don't just want to see your home furniture products or great gifts, they want you to give them recipes, home decor ideas, how to keep the kids entertained during the holidays, etc.
This last type do their research before buying, so the more you help them, the more you'll stay at the top of their minds when the buying decision comes. So create specific boards to help them with tips, ideas, resources and inspiration (and your products too of course).
Join Christmas Gifts Group Boards
There are many group boards on Pinterest that are specific for Christmas gifts: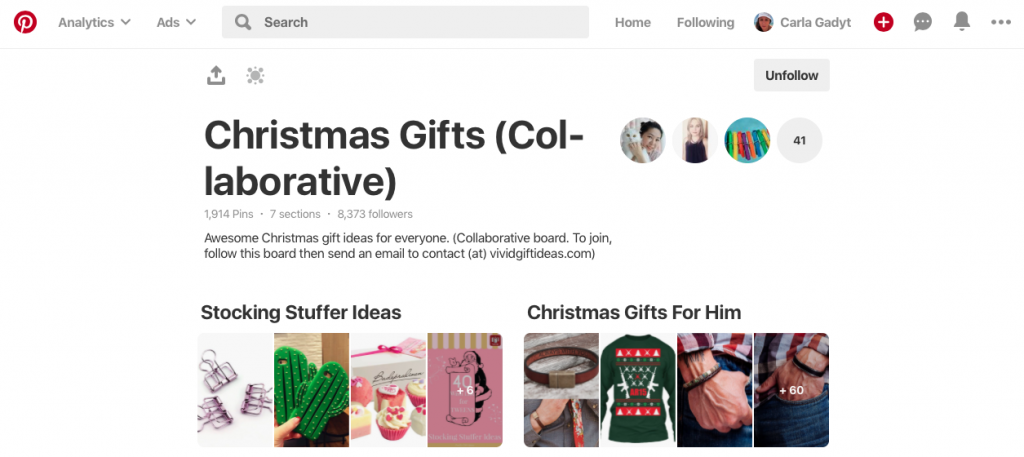 Many have different sections to add different types of gifts for different audiences.
Just find the best group boards for your niche, ask to become a collaborator and start pining your products in there.
If you wish to know how to find Pinterest group boards, click here.
Use Promoted Pins, Promoted App Pins and Promoted Videos
These are other way of saying paid advertising on Pinterest.
You can promote specific pins, for example the products you want to push sales during the holiday season, promoted pins in the mobile app (a lot of people use Pinterest on mobile), and even promote videos that start streaming as soon as people find them.
This can be a good investment to create more reach and awareness during the holiday season.
---