5 Steps To Create an Amazing Pinterest Board For Your Shopify Shop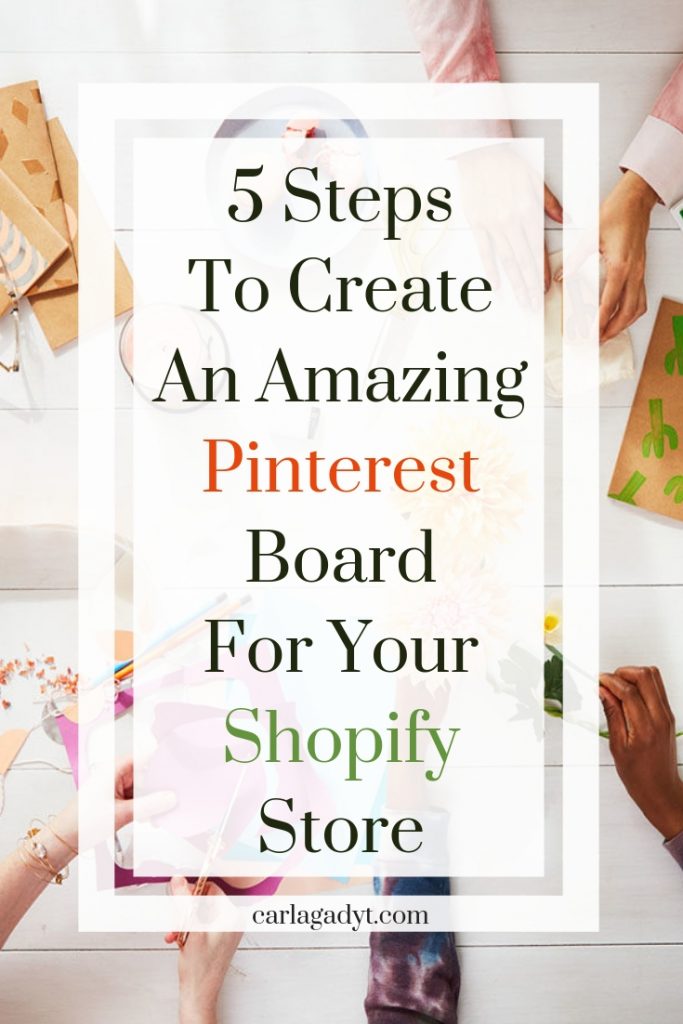 ---
Shopify Stores and Pinterest go hand in hand.
The amount of targeted traffic you can get from Pinterest to your store is just insane, week after week.
But, of course, you need to take the right steps in your Pinterest account to make this happen.
I see many Shopify store business owners using Pinterest that don't have a specific board just for all of their products.
Instead, they have all their products shared on many other boards with different titles.
Whilst it is important to have other boards related to your audience's interests and pin your products in there too, it's key to have a specific board just for your products, because:
It will give your store a more serious business presence

It's a collection of all of your products where visitors can find them easily

It increases your chances of a better ranking on Pinterest's Smart Feed

It increases the chances of your board being recommended to your audience by Pinterest
This board needs to be at the top of your Pinterest profile.
Here are the 5 top things to create an amazing board for your Shopify shop:
1. Shop name as its title
You should give your board title the name of your store. Makes sense, right?
But if you think it's not very descriptive of what your products are, and you want to (and should) write your main keyword, you should do it too.
For example, let's say the name of your store is Tyger and you sell jewellery. If you name it just "Tyger", it doesn't tell much to people searching for jewellery and also doesn't say much to Pinterest's algorithm when indexing your board.
So, write something like "Tyger Jewellery Store", or "Tyger Handmade Jewellery", whatever makes more sense and are your main keywords.
2. Add sections to your board
If you sell more than one type of products, you should add sections to your product board.
Still with the example of the Tyger jewellery store, let's say you sell bracelets, necklaces and rings. So you should have 3 different sections on your board with these 3 names, and pin your products into the right section.
This will give a more professional and clean look to your board and makes it easier for your audience to see the different types of products you have.

3. Write a sound description of your board with the right keywords
I am amazed at how many boards don't have a sound description (or any at all)!
The description of your board is your opportunity to tell your audience why they should shop with you.
Tell them why your products are unique, different, and a bit of who you are as well. Insert your main keywords and the URL of your store.
Even if the URL is a no-follow (not clickable), it is still indexed by Pinterest.
Here's the example of a good description:
Welcome to the Tyger Jewellery Store. Here you can find unique handmade necklaces, bracelets and rings all created in Paris, France. Visit our shop at: INSERT URL.
This is a good description because it's short, straight to the point, it's welcoming, it says exactly what people can find, you also invite them to visit your store, and it contains all the main keywords that your audience will be searching for.
4. Put your board at the top and on your slider
Your product board should be at the top of your profile. It needs to be the first board people see when they enter your profile.
Also, it needs to be the first option when you choose which boards to be featured on your slider – you can go to Settings – Profile – Featured Boards to do this.
5. Add a nice board cover
When you edit the board (and after you pin your products), you can choose a board cover.
Make sure you choose an image that shows your brand, not just your products.
You can even do a specific image with wording on it just to be your board cover – canva.com is great to do that.
Another great idea is to rotate the board cover from time to time, or in specific times of the year.
You may want to do a Christmas cover, a Valentine's Day cover, a summer holiday, a sale, or any other special occasion.
That also helps to keep your profile fresh and interesting.
Also very important:
Last but not least, make sure each one of the pins on your board has the right link to its product page on your Shopify store.
The worst thing is having broken links or links to products that don't exist anymore, etc.
So, everytime you update or change your products on your Shopify shop, make sure you update your board too.
Also, don't forget to tell the world about your board! Write a blog post about it, announce it to your mailing list, post it on other social media channels such as Facebook, Twitter or Instagram!
And of course, pin your products from your board and into popular group boards in your niche.