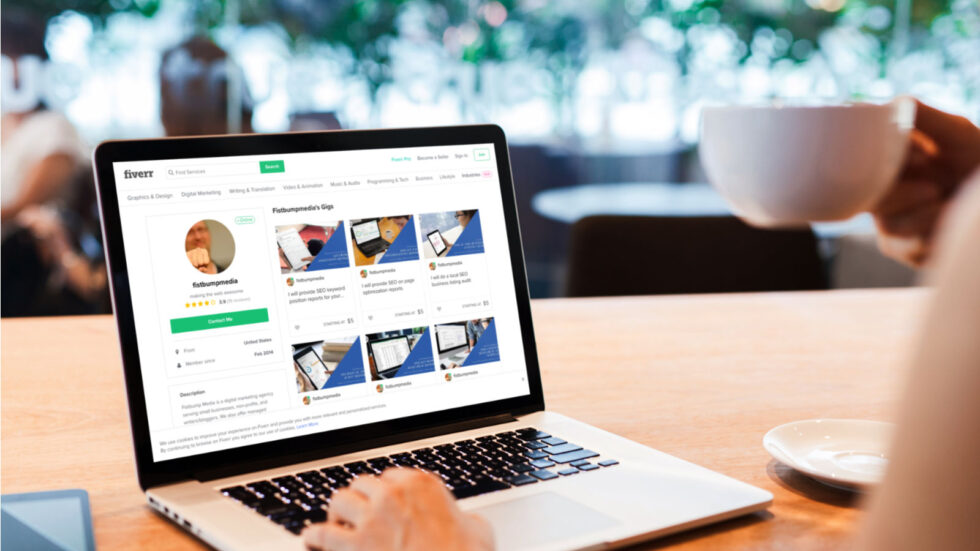 Fiverr Seller Pro Tips – How To Be Sucessful on Fiverr
I have been on Fiverr since November 2017 and has been an amazing experience for both my business and my personal life.
I have expanded my business further, I have awesome clients from around the world, I have been increasing my income consistently, and have even bought a house!
My Fiverr Top Rater Seller reviews speak for themselves, with many awesome reviews from my clients.
So if you are also a Fiverr seller or want to start on Fiverr, this article is for you.
I want to share my pro tips on how to be successful on Fiverr and make the most of it.
So without further a-do:
Have a complete profile
Make sure you complete your profile with your photo, description, portfolio, social media links, earn badges, languages, etc.
You can be sure most of your potential clients will read your profile before contacting you, so make sure it is all filled and reflects who you are and your experience.
Be aware of your stats
Each seller has stats on Fiverr, related to their Response Rate, Order Completion, On-time Delivery and Positive Rating.
Your goal should be to always have all these on 100% or close enough.
That is how you'll reach higher seller levels on Fiverr and grow your business.
The stats also reflect how commited you are to your business and your clients, and that is very telling to potential clients.
Update your profile and gigs often
On Fiverr you want to make sure your profile and gigs are visible when buyers do their searches.
One of the ways to do that is by updating your profile and gigs often and have SEO in mind.
Add the right keywords to your gig descriptions and titles, add new information often, change your photos, add a portfolio, etc.
Also make sure you offer several different packages on each gig, and set up the right prices.
The right prices is really up to you and how much you value your work.
There will always be clients who want to pay the cheapest and clients who want to pay more and have a higher quality of work. It's up to you to decide which one you want.
Respond promptly to new potential clients
When you get a new message on your inbox of a prospective client, make sure you respond promptly to them.
Fiverr helps sellers with this by being able to respond with Quick Responses that are already created and you just have to choose which one you want to use to respond.
For example, if you are busy and cannot respond, you can send one of these quick responses saying something like: "Thank you for your message, I'll respond asap".
That way the buyer knows you acknowledged their message and wait for your reply. Much better than saying nothing and respond many hours later.
But even if you send these quick responses, then make sure you respond promptly to them.
They might be sending messages to several sellers or they might be really enthusiastic to work with you in specific, so don't kill that opportunity by taking too long to respond.
Remember that these first contacts show how available, communicative and interested you are and can be the start of a long-term relationship with that buyer.
Ask new potential clients all the right questions
Your potential clients are contacting you because they want to get to know you and how you can help them with your services.
But this is a two-way street. You two should be vetting them and see if they are the right fit to work together.
This is VERY important to do, because accepting to work with clients you are not aligned with not only is going to bring issues and very often turn into a nightmare, but it can end badly with a nasty review on your profile.
So ask your potential clients the right questions you need to know. For example, what are his realistic expectations of your work?
For example I do social media marketing, and sometimes there are potential clients who want to start on social media and expect sky high sales on a new business and new social media accounts in under 15 days.
This is not realistic in any way. And if I agree to work with them, I won't be able to fullfil their unrealistic expectations and is not going to work.
So I prefer to work with clients who see social media marketing as a long-term investment and something that needs consistency and commitment.
Those are the clients that become long-term clients and I provide the best results for them.
So, make a list of the key questions for you (your non-negotiables), and ask them to any potential clients that approach you.
You want to fell excited and happy when you start working with a new client, not worried and apprehensive.
So yes have the courage to say no to a potential client if you have to. You are not missing out on work or income, you are honouring yourself and leaving the space open to awesome clients to find you. Have an abundant mindset!
Do work you are passionate about
Do only work you are truly passionate about. Not work you don't like but you can make good money from it, because you'll be fed up and burned out quickly if you do.
Sometimes clients ask you if you can also do other type of work that is related. For example, on social media marketing sometimes I have clients asking if I also do SEO.
Although I have a great knowledge of SEO as well, and I implement SEO on social media marketing, I don't do the traditional SEO as in optimizing websites or link building.
I just don't like it and is not my bread and butter.
So if I accept to do it (just to have more income), I'll be draining myself and exhausting my energy on something I don't like.
Instead I prefer to say no or recommend a partner to my client who is great at SEO (more on Fiverr partnerships below).
Don't spread yourself too thin, be specific and focus on what you enjoy doing and do best. That is how you'll deliver the best results.
Communicate often with your clients and keep them engaged
When you have an order going, don't just disappear until you deliver the order. Especially for orders that take some time to deliver.
For example, usually my social media marketing orders are monthly and last for 30 days. So in those 30 days I make sure I communicate often with my clients and keep them in the loop of that's happening.
Ask your clients before starting to work what they prefer, or tell them your communication preferences.
Some clients like to have a daily update, others a weekly update is enough. It also depends on the type of work you are doing, and if there is a campaign coming out, etc.
crossorigin="anonymous">
Whatever the type of work you do, make sure they hear from you at least once every 3 or 4 days.
After all, this is their business and you want to keep them engaged.
On social media marketing, clients are happy to have someone managing their social media so they can focus on other things, but still is always good to keep them engaged with what you are doing so they know and understand your work.
Celebrate each small step
Make sure you celebrate every small step of your business journey.
A great review, a new order, a client who wants to work with you long-term or recommends you to another client, etc.
Celebrating each step keeps you motivated and with higher vibes, which translates into you being passionate about your business and bringing good results to your clients.
After a while you get used to have good reviews or getting a new client and might seem so normal that you don't acknowledge it properly anymore.
Make sure you continue to celebrate and feel grateful for each good thing that happens in your business, so you keep focused.
Keep your clients motivated
I already mentioned about communicating often, but make sure you keep your clients motivated.
There's a DM on their Instagram account from a potential good partnership for them? Let them know asap!
You reached 10k page follows on Facebook? Make sure to tell them how awesome that is!
Started to increase their traffic from Pinterest to their website? Let them know!
Whatever is the work you do on Fiverr, make sure you tell your clients all the good things that are happening, so they feel motivated!
Especially on social media marketing, this is a long-term commitment that only brings results to brands that are commited on the long run.
So in order to feel committed it's always a good idea to let them know all the good things happening so they keep motivated to continue.
Offer more value as advice or ideas
One of my key strenght is the ability to see the big picture.
I have been doing social media marketing for over 15 years and worked with so many businesses in different niches all over the world, and I also have my own websites I work for.
So all this experience combined with my ability to see the big picture, makes me easily see what works or not for a client.
I can easily see things they should improve on their website, a social media channel that would be great for them, a new strategy, etc.
So I don't just do social media marketing. I see their business as a whole and if I see room for improvement or have an idea that will be great for them, I tell them.
I like to go the extra mile for my clients, and they appreciate it a LOT!
This doesn't mean doing more work for free though! You can suggest or up-sell a service and get more work and income.
But sometimes it happens that you give them tips and ideas for free and they compensate you in other ways, like more recurring work, a tip, a great review, etc.
And to be honest, I love to simply help my clients thrive in their businesses and if I see something that benefits them, I tell them.
Sometimes is as simple as telling them to have social media "follow me" buttons on their homepage, or their phone number more visible, etc.
Sometimes things that are very simple and obvious to you aren't that simple and obvious for your clients, and they'll be super grateful!
Up-sell your services
We mentioned this before about delivering more value to your clients, but I feel this needs to be addressed again as it is sooooo important!
If you offer more services and see the opportunity to give that to your clients, do it!
Don't wait for them to discover your other gigs, tell them!
For example, if you create social media captions but you also do blogging, and your client doesn't have a blog on their website yet but would definitely benefit from it, let them know.
Suggest that and tell them what are the benefits they would get, like increase Google rankings, more traffic to their website, etc.
The key here is to offer complementary services that will REALLY benefit your clients and make sense to their businesses.
Not only is more work and income to you, but will also help your client's businesses thrive, which is awesome. Win win to both!
Take a break
It's very easy when you work on Fiverr and have your own business to be always available, always switched on.
But make sure you switch off once in a while though, for your mental health.
There are automated systems you can put in place like for example social media scheduling tools, or you can complete work in advance in order to take one or two well-deserved weeks off.
On your Fiverr profile you also have the option to set your availability, and not being available on certain dates and leave a message to potential clients: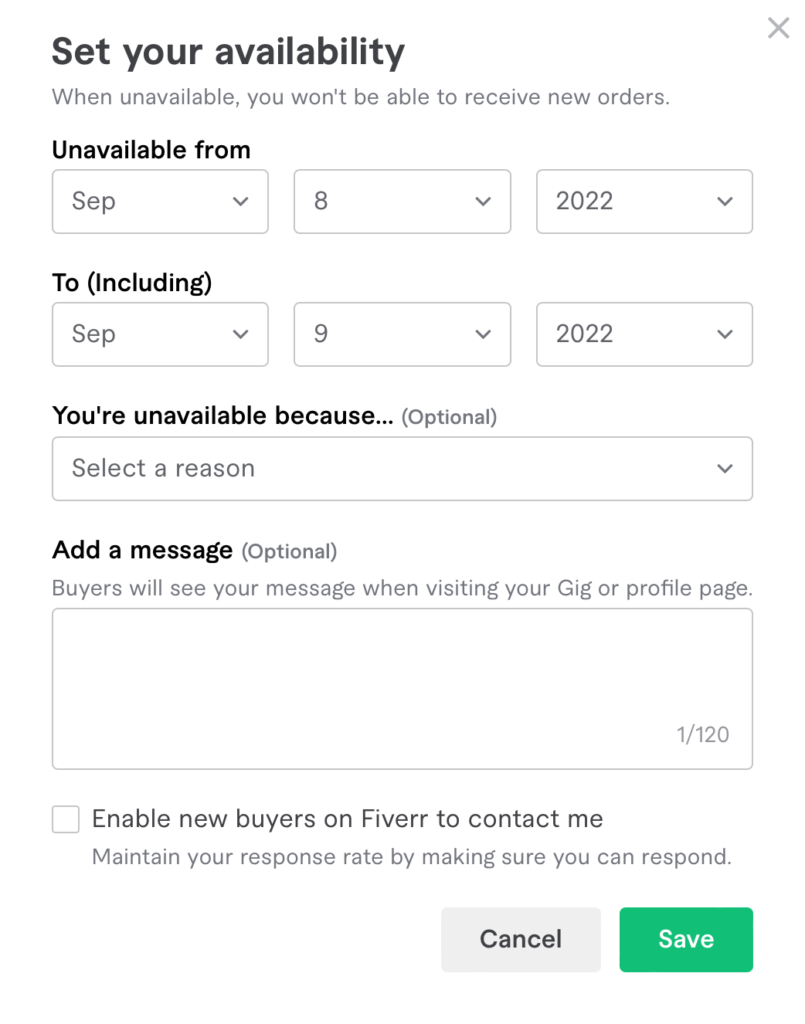 Make sure you use it and take some time just for yourself to relax, go on vacations, spend time with family and friends, and come back feeling refreshed and motivated.
Learn how to deal with disputes
As much as you vet your potential clients or want to deliver a good service, sometimes a dispute might happen.
That can happen to any seller and the first thing is to not panic.
If you need to, you can always contact customer service or your Fiverr manager for help and advice on how to deal with a situation with a client.
But the key thing is always to keep your emotions out of the situation and deal with it in a professional and helpful manner, even if you don't agree with the client or they are being unreasonable.
Be respectful to the client and try to understand what they are trying to say.
Many disputes happen because of a lack of clarity or understanding about expectations, so make sure you listen and understand your client's concerns first and foremost and try to offer a solution.
Sometimes a good solution is all that is needed to solve the dispute.
But in those extreme cases when the client just don't want a solution and wants to cancel the order, think well about your decision. Sometimes is better to accept that than to have a bad review on your profile.
And if you deal with your client in a respectful and professional manner, chances are you will part ways with no hard feelings or bad reviews.
Always wish them all the best for their business even if they choose not to continue working with you.
Partner with other Fiverr sellers
Fiverr offers you the possibility to parter with other sellers, and that can be a great opportunity for more work and more clients.
You can be invited by another seller to join a "Studio" or you can create one yourself and invite other sellers: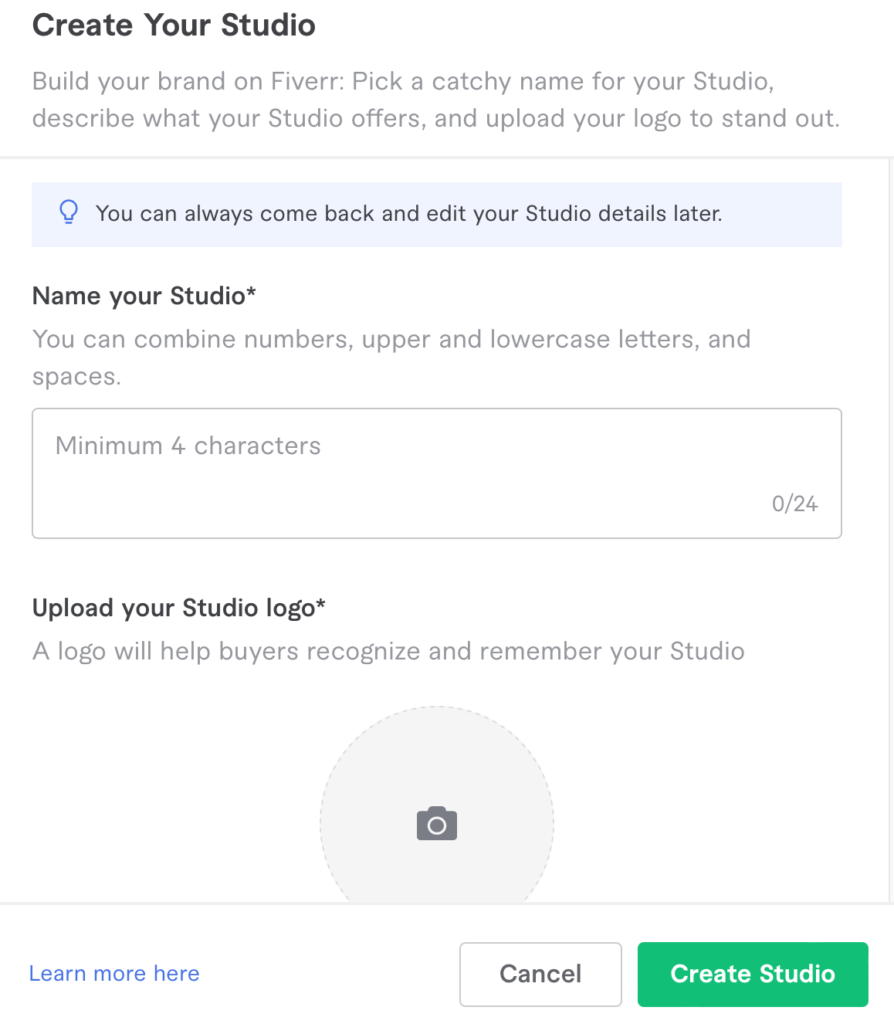 Or you can simply get to know other sellers on Fiverr and recommend clients to them and tell them they can recommend clients to you as well.
This is a great way to expand your network and get more work!
---
I hope you enjoyed this article and it was helpful to you. Leave a comment below so I know! And if you wish you can visit my Fiverr profile here.