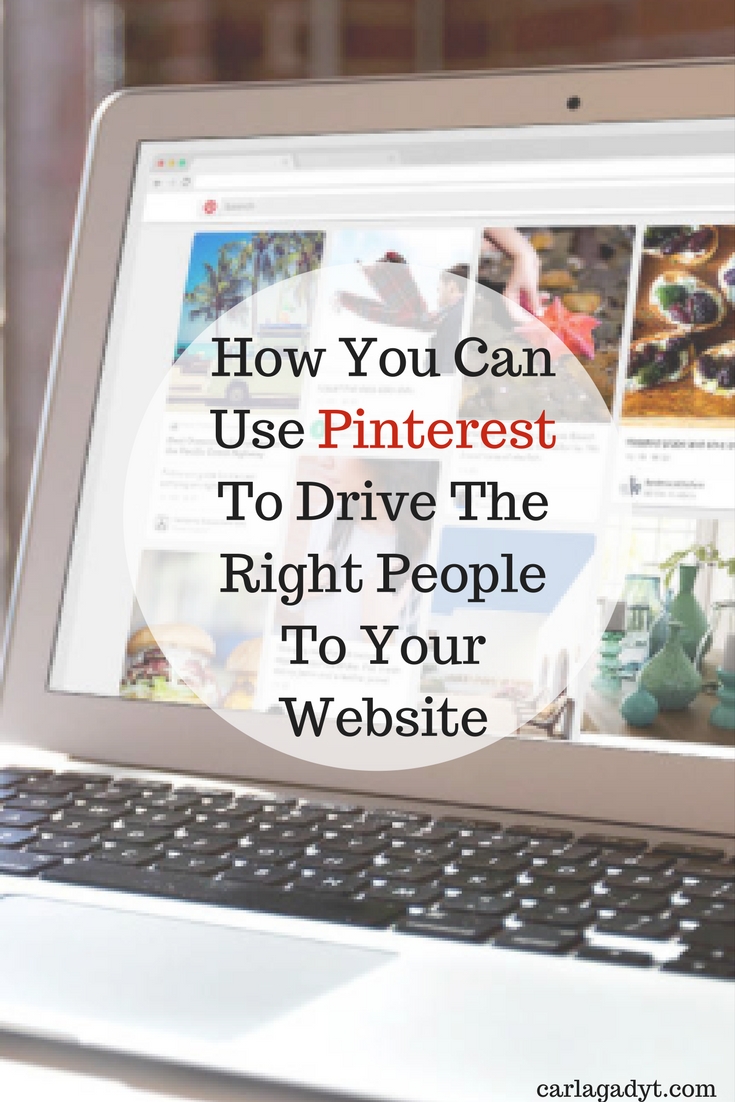 How You Can Use Pinterest To Drive The Right People To Your Website
---
Pinterest is a wonderful social media platform, but it is much more than that, and certainly much more than a place to find outstanding travel photos or food recipes.
It is a search engine on its own, and at the moment rivalling with Google.
And it has got a huge community of spiritual people using it.
If you have a blog and like to write articles about the subject(s) and topics of your heart-centered business, then you have a tremendous opportunity to let Pinterest do the work for you of driving insane amounts of targeted traffic to your website.
What is targeted traffic?
Attracting targeted traffic means attracting the right people, your "tribe".
The audience that is actively looking for you and your services online, the ones that will resonate with you and are potential clients.
Because those are the people you want to attract, not just random numbers, right!? And you can get that with Pinterest.
To illustrate this a bit better, I'll show you the example of my other website The Journey Back To Self, focused on empowerment for empaths.
---
I have been using this strategy on Pinterest I am about to tell you, and it has been driving insane amount of traffic to my website:

Source: Google Analytics
---
In fact, of all the social media networks I use, Pinterest is currently the number 1 source of targeted traffic, attracting 10k visitors and growing, with a high % of new users every week.
There are many strategies to do on Pinterest, but these are the key 5 main ones:
Have a Business Account
You can change your personal account into a business account, and if you are just starting your profile on Pinterest, create a business account from scratch.
As soon as you add all your details, verify your website on Pinterest so you can have access to all the goodies: Pinterest will pull up stats from your website/blog and will let you know exactly how many people are visiting your site from Pinterest, clicking and sharing the posts from your site.
You'll also have much better reach on Pinterest with a business account.
---

---
Create Interesting Boards And One Specific For Your Blog
Your profile should be a mix of interesting boards that are related to your interests and the topics of your business, but also have a specific one just to post articles from your blog.
You know, many people on Pinterest do not follow profiles, they follow boards. And if you happen to have many interesting articles from your blog, it makes people's life much easier if you put them all in one specific board, since they can find all your blog posts.
Also, make sure this specific board stays at the top of your profile (yes you can and should change placement of your boards).
Pin Into Other Boards On Your Profile
But, don't just limit yourself pining your posts into that one specific board.
You can and should pin into other boards too. For example, let's say you are a Law of Attraction Coach. You can create a specific board exclusive for your blog posts such as "Create All You Want With The Law of Attraction" and pin all your posts into that board.
But then let's also say you write different articles about attracting money, or a successful business, or your soulmate, etc.
You can create other boards that are specific for those topics, and then pin the related articles into them.
This way, if someone doesn't find the exclusive board for your blog, they might still find your blog posts on other(s) of your boards, increasing the reach of your blog posts.
Pin Into Group Boards
This is a KEY strategy on Pinterest.
If you want to gain reach and exposure quickly, you need to join group boards related to your niche and topics.
This is especially important if you do not have many followers on Pinterest (yet).
Group boards are basically shared boards where many people can pin into. The top ones have hundreds or thousands of followers, and when you pin into those boards, it will increase the chances of your pin showing up in their feeds. It is a great way to get exposure.
Pinterest doesn't have a search feature specific for group boards, but you can use this great website to find the group boards related to your niche: Pingroupie.
You'll need to check the description of each group board to see how you can join them, and always make sure you follow their rules on pinning.
Have Pinteresting Pins
In order for your pins to get saved and clicked through, it is important that they are visually appealing and interesting.
You might think that it takes too much of your time, but remember: a pin on Pinterest stays there forever.
Whilst a post on Facebook or Instagram, or a tweet on Twitter has only a few hours of reach, a pin on Pinterest has days, weeks, and months.
If it turns viral, it will bring back constant traffic every single month to your website, without you having to do anything else!
---
That is exactly what happened to one of my posts in my website: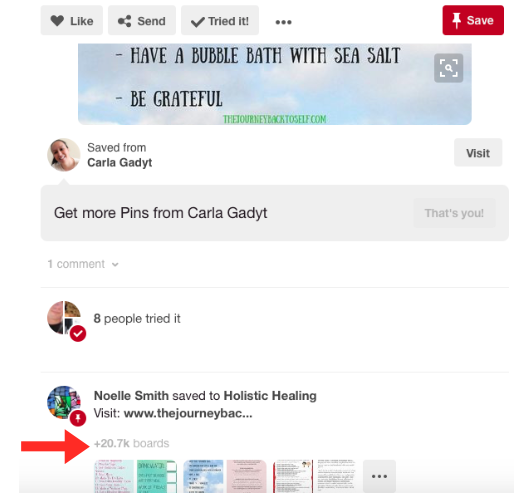 You can click here to see this post "18 Things To-Do For a Happier Life"
---
I shared this post on Pinterest not only on my boards but also on group boards related to The Law of Attraction and spirituality and it just went viral.
It has currently been shared on 20.7k boards across Pinterest and is one of the pins that is driving that massive amount of targeted traffic into my website.
People that are saving this pin and clicking through to my website are people that are spiritual and into the law of attraction, which is the main purpose of the pin.
This pin is appealing because it is an infographic that works wonders on Pinterest.
---
But you can also create other appealing images with the title of your blog posts, like this other pin that is also driving lots of traffic to my website: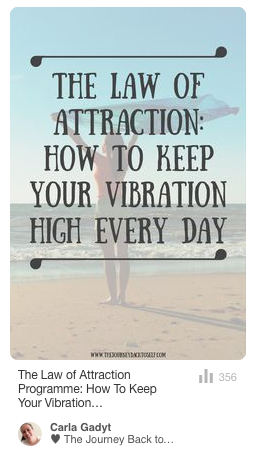 ---
If you are thinking that you have no experience with graphic design, no worries because I have none either.
I basically use a tool named Canva that is a major life saver, because it has got tons of templates that you can use, as well as fonts, designs, shapes, icons, including a ready-made size template for Pinterest (and other social media networks too).
Or of course you can always pay a professional designer to do them for you, which is a great option too to invest in your business.
---